Arthroscopy is a surgical procedure orthopaedic surgeons use to visualize, diagnose, and treat problems inside a joint.

The word arthroscopy comes from two Greek words, "arthro" (joint) and "skopein" (to look). The term literally means "to look within the joint."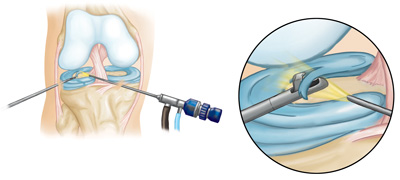 In an arthroscopic examination, an orthopaedic surgeon makes a small incision in the patient's skin and then inserts pencil-sized instruments that contain a small lens and lighting system to magnify and illuminate the structures inside the joint. Light is transmitted through fiber optics to the end of the arthroscope that is inserted into the joint.

Why is arthroscopy necessary?
Diagnosing joint injuries and disease begins with a thorough medical history, physical examination, and usually X-rays. Additional tests such as magnetic resonance imaging (MRI) or computed tomography (CT) also scan may be needed.
Through the arthroscope, a final diagnosis is made, which may be more accurate than through "open" surgery or from X-ray studies.

How is arthroscopy performed?
Arthroscopic surgery, although much easier in terms of recovery than "open" surgery, still requires the use of anesthetics and the special equipment in a hospital operating room or outpatient surgical suite. You will be given a general, spinal, or a local anesthetic, depending on the joint or suspected problem.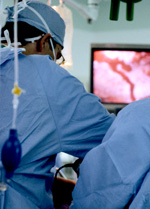 A small incision (about the size of a buttonhole) will be made to insert the arthroscope. Several other incisions may be made to see other parts of the joint or insert other instruments.
When indicated, corrective surgery is performed with specially designed instruments that are inserted into the joint through accessory incisions. Initially, arthroscopy was simply a diagnostic tool for planning standard open surgery. With development of better instrumentation and surgical techniques, many conditions can be treated arthroscopically.

What are the possible complications?
Although uncommon, complications do occur occasionally during or following arthroscopy. Infection, phlebitis (blood clots of a vein), excessive swelling or bleeding, damage to blood vessels or nerves, and instrument breakage are the most common complications, but occur in far less than 1 percent of all arthroscopic procedures.
Case Study of Arthroscopy:

Case 1:
A 28 year old sport person broke his knee ligament that is ACL during playing.He was operated by me about 8 years back and his ACL was reconstructed .Now he is playing game again and doing full sports activity without pain and instability without any support.



Case 2:
A 15 year old active boy suffering from sport injury in his right knee and diagnosed as Osteochondrocyte dissecance Rt Femoral condyle . He was operated and arthroscopic osteochondral autologus transplant ( OAT /Mosaicplasty ) was done . Now he is doing his routine sport activity.